---
Stable Songs, a Will Oldham Fan Tribute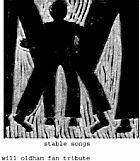 ---
Some words from the contributors:
Drury Stith - Take However Long You Want.
These guys from Norfolk, VA, USA, start this compilation. "Drury Hardaway is a native of rural Virginia, but right now (at the time of recording, LM) he lives in the pretty old (historic?) port city of Portsmouth, which is also the home of Gene "Not Don McLean's "Vincent and Missy "Misdemeanor" Elliot. Plus poet Dave Smith. This song was chosen because it seemed pretty easy but took a lot longer than expected and the original hook is gone, but we couldn't find the local version of Tommy Facenda's "High School USA" anywhere and the Caravelles tribute tape was called off, so we went this in anyway. Also featuring Hobson Driver on some guitar and a lot of knob turning. Recorded at the Hotel Governor Dinwiddie, downtown. Best when consumed through a cheap boom box in a chilly bathroom. Do not use surround sound !"
Fitus Quo - Disorder.
This is one of the three bands from Reykjavik, Iceland that join this tribute. "The reason we chose Disorder is that it is one of Hilmar's favourites. Helgi just couldn't resist when he heard the song for the first time. The beauty of the song is in its simplicity". . Players: Ernesto Hilmar Ramos: vocals, guitars; Helgi Örn Pétursson: bass; Thórunn Inga Gísladóttir: piano; Dr. Rhythm: drums, percussion. Recorded by Lalli and Hilmar. Mixed by Helgi. Executive produced by Joddi's Dream.
Graf Spee - Trudy Dies.
From New York City Dave Milsom writes: "The four track is held together with duct tape. The bass wouldn't stay in tune. The upstairs neighbours were practising their Greco-Roman wrestling, and I'm still waiting for that vocal transplant. But it was fun anyway."
Jan van de Mortel - The Cellar Song.
The first Dutchman and the first solo musician.
John Min - The Brute Choir.
Another Dutchman and solo player who writes: "With my guitar tuned too low en an old taperecorder this is my attempt to contribute a song. The reason I like Will Oldham is that he writes poetry supported by music".
Fitus Quo - Let The Wires Ring.
Their second contribution with a slightly different line-up: Ernesto Hilmar Ramos: vocals, acoustic guitar, whisper: Helgi Örn Pétursson: electric guitar, whispers. "Helgi never heard the original, Hilmar decided to take him by surprise by this one."
nuArc - (I Was Drunk At The) Pulpit.
The second band from Iceland. Recorded on a 4-track. Inridi: nice vibes; Arni: voice, bass, piano, melodin; Gudni; voice, guitar, drums.
De Milo's - You Will Miss Me When I burn.
This married couple from Holland operates in King Me as well. This song was not recorded for this tribute, but they decided to send it in for contribution anyway. Michael Milo: guitars, vocal; Janneke Milo: backing vocal; contains a sample of the "Chant De Pinson" album. Recorded in November 1997.
Starkweather - Riding.
From Vancouver, Canada. "Just before we were set to record, my brother's 4-track was unceremoniously ripped off from his apartment. Alas, the show must go on. We rigged up his cassette deck with a microphone in and recorded the acoustic guitar, drums and vocals on to a tape. When we got a half decent version (after much experimentation!) we took the tape and put it into a walkman hooked up to stereo speakers and played them into the previously mentioned microphone with an amplifier plugged in to the in-jack on the cassette deck for the electric track. We had a lot of fun making it." Starkweather is Jeremy McCarron on acoustic guitar and vocal, Matthew McCarron on drums and electric guitar.
Missouri - New Partner.
From Nürnberg, Germany. "It was hard to choose a song, I think I love them all. And even every song (nearly) has given me so much in the past and even until now."
"…a payment which precludes the having of fun…" Missouri at the time of recording New Partner is Red, Frank & Wuschi. Missouri thanks Leo, Jens and Killer again.
nuArc - Raining In Darling.
Same personnel on their second contribution.
Joddi's Dream - Work Hard/Play Hard.
The third band from Iceland. "One half of J.D. went to a Will Oldham concert in Reykjavik and was fairly impressed. Without having heard one of the records, the rockers first reviewed the song titles for potential glam-rock titles, and first considered recording Lost Blues. Then, having listened to Viva Last Blues, they had no doubts as to which was best suited for their joyful style. It is very interesting in the context of Mr. Oldham's rendition of AC/DC's Big Balls, sort of 'revenge of rock'." Players: Dadi Ingólfsson: vocals, urging; Lárus Magnússon: guitars, bass, keyboards; Dr. Rhythm: drums, percussion. Ozzy Osbourne: Ozzz. Recorded and mixed by Joddi's Dream. Executive produced by Joddi's Dream with the spirit of E.V.H.
Arend Hart - West Palm Beach.
Solo from Michigan, USA. "Recorded on my computer microphone and put it in MP3, I apologise for the low-fi quality. I send it in for the kicks."
Hopperlane - Gulf Shores.
This is a 3-year old French band, based in Paris. "Instrumentals can be found in our project as well as songs. Texts are in English or in French. We're using glockenspiel, xylophone, maracas, violin and Spanish guitar as well as traditional pop/rock instruments." The line-up for Gulf Shores was: Stéphanie: vocals; Virginie: keyboards; Geneviève: drums; Sophie: bass; Marc: Spanish guitar.
King Me - I See A Darkness.
King Me comes from different places in Holland. They recorded I See A Darkness for this tribute but it also came out on their self-titled debut CD. Recorded in Leo's Kitchen. Michael Milo: guitars, vocal; Janneke Milo: background vocal; Ariël de Graaf: violin, percussion, background vocal; Leo Meijer: bass, background vocal.
Fabrice Perrin - Long Before.
Fabrice closes this compilation. This "free interpretation of Long Before" comes from France as well.
All songs by Will Oldham.
---
Back to the Royal Stable